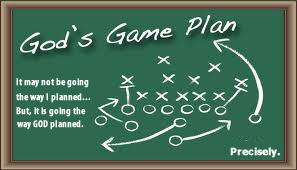 I would be remiss if I did not mention the use and necessity of our unlimited resource as we consider our vision and now planning.  In business I hear a lot about planning and I bet you do as well. It is getting close to the end of the year and I am often asked about planning for the upcoming quarter and ensuing year.  Corporations establish plans that cover anywhere from one to five years. Individuals establish personal life plans and new business opportunity strategies.
There is only one problem that I see with most planning; if God is not the originator and director of the plan, then that plan is destined for failure. So often, particularly Christian workplace believers set out to plan something that seems good in their own mind. The merits of what is being planned can look great, and it can even be an admirable and commendable endeavor. However, that is not the point. Jesus said He came only to do the will of the  Father, He could not consider doing anything that was not what the Father wanted, no matter how good or righteous it might appear to be.
We have an uncanny ability to make decisions based on our own needs and wants.  Planning from God's view is a process. It isn't merely an exercise in reason and examination. It requires entering into the mind of Christ together with our minds to determine which course to take.  "I know, O Lord, that a man's life is not his own; it is not for man to direct his steps." (Jeremiah 10:23).
God desires that we seek Him to know His plans for us. You might remember that David was a skilled warrior who never lost a battle. He consulted with God on every decision. He knew the results of the battle remained in God's  hand. So, if he was to achieve victory, he had to know God's mind on the matter. Sometimes this requires more time given to the process in order to hear His voice. Sometimes it may even require fasting and prayer. Sometimes it may  require counsel and input from other godly friends.
"In his heart a man plans his course, but the Lord determines his steps" (Proverbs 16:9). God must give us the vision for what He calls us to do. After we have the vision, we must ask Him if He wants us to take action on that vision and what the action steps involve. The Lord wants to direct each step of the planning process.
Again, David learned this lesson when he went to battle against his enemy, the Philistines. One day he inquired of God as to whether he was to fight against the Philistines, and the Lord said, "Yes, but only when you hear the marching in the balsam trees."
It is a mistake to reason and examine in complete separation in order to come to a decision on a matter. The Lord already knows the answer. Itis our responsibility to seek Him to find out His mind on the subject. Our planning must be established in and with Him. Only when we stay so connected to the source can we be assured of putting God's plan into place. Remember, getting that plan confirmed through others will assure that we are not following the deceit of our own heart.
When you begin to plan, ask God for His wisdom for establishing the vision and action steps.  Ask Him to fill you with faith. Remember He does not always give you the full set of instructions, you just need to obey Him and as you do, He will lead you and direct your steps. He will tell you the direction in which you are heading but there will be an unfolding as you walk with Him. You will be surprised how well He can plan. Whatever you do, don't limit God.
I want the Greatest planner on my side?
Precisely.
Jerry Duling is a Marketing and Business Consultant, Professional Speaker, and Social Media advisor. Jerry shows businesses how to use Social Media to build their brand, generate leads and close sales. Jerry also provides individual resources for the Internet Entrepreneur. Connect with Jerry on Google+.
[pinterest]