Do you often feel like God's far away – take a look at this remarkable YouTube video.
It was posted by 18-year-old Ben Breedlove. Ben Breedlove was an internet YouTube blogger who posted a variety of videos covering everything dating to relationships and advice.  He was also a young man who lived his entire life with a dangerous heart condition. Tragically, he died on Christmas Day after having a heart attack. Just days earlier he posted a video telling his life story… a video introducing himself and describing a near death experience he had as a result of the condition. At the end he tells the audience "Do you believe in Angels or God? I do.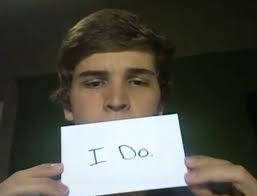 I suspect that many of you have already seen bits and pieces of this on the news.  If not, you should check out Ben's story on the links below.  He tells his story with simple note cards and the occasional smile, sitting close to the camera and stepping back just once to show the scar from when a pacemaker was implanted to help his troubled heart.
It is a remarkably hopeful video.
Ben created the OurAdvice4You channel on YouTube in November 2010 with his childhood friend Justin Miller and Megan Parken. His purpose was to give relationship advice to his viewers and interview family members and friends. In May of 2011, he launched his second channel, BreedloveTV, a companion channel to his first, where he would answer questions about dating, relationships and advice. According to family members, girls from all over the world would message him, asking him for advice. In his hometown of Austin, Texas, Ben became somewhat of a celebrity to many teenagers.
As of 7 January 2012, OurAdvice4You has a total of 38 videos, and more than 65,000 subscribers, and BreedloveTV has 17 videos and over 30,000 subscribers.
Ben created a third channel on December 18, 2011, entitled TotalRandomness512. This channel is the host of the two-part video, "This is my story", which has since become viral. As of the middle of January 2012, both videos have a total of 10.5 million views.
On December 29, Breedlove's funeral was held at the Gateway Church, in Austin, Texas. The memorial service was streamed live on the KXAN website, at his father's request. More than 1,400 people attended the service, and another 11,000 watched online.
Most of the media outlets have edited out many of the religious elements, if you have not seen the full version, check it out here:
There are numerous related videos, might I suggest his sister Ally's comments at his funeral.  Ben's sister.  Ally Breedlove said her brother told her, "God let me feel that peace before I came back so that I would know that heaven is worth it."
At a very young age, Ben Breedlove planted a seed in people's mind to begin thinking about things that really do matter in life.   From time to time it is a good idea to sit, reflect, and consider the hope we really do have.  Ben Breedlove was a normal kid who lived a normal life — if having a life-threatening heart condition can be considered normal — and left an extraordinary legacy for us on Christmas day.
Some people just seem to be really grounded and in control, ever wonder why?
Precisely.
Jerry Duling is a Marketing and Business Consultant, Professional Speaker, and Social Media advisor. Jerry shows businesses how to use Social Media to build their brand, generate leads and close sales. Jerry also provides individual resources for the Internet Entrepreneur. Connect with Jerry on Google+.
[pinterest]