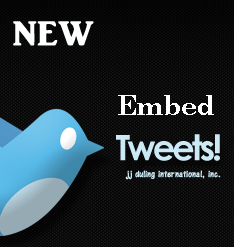 Twitter now allows users to capture embed codes for their favorite tweets. This means that rather than taking screen shots of tweets and uploading images to our blogs and websites, we can embed tweets so that users can interact directly from our site. Of the new introductions, I believe this feature will have the most impact on sharing your content. What's so great about that? Let me show you!
Overview
Embedded tweets allow you to take a tweet or a conversation and post it on your website or in a blog post. This feature allows you to share your Twitter conversation with a more extensive audience. The most significant aspect is the embedded tweets have interactive features. From an embedded tweet, a visitor to your website or a blog post reader can:

View the Twitter profile of the tweet author.
View the Twitter profile of the tweet recipient
View tweet replies by clicking the tweet date.
Reply to the tweet and join the conversation.
Retweet and Share the conversation.
Follow the tweet author.
Mark the tweet as a favorite.
All of this happens right on your website. For most functions, Twitter adds a pop-up window so your visitor never leaves your site. It's like having a little Twitter conversation launching platform installed on your website.
Embedded tweets are prominent on the page because they include graphic elements, so they pull the eyes of your visitors toward the twitter box.  If you embed a reply, Twitter posts not only the reply, but also the original tweet, giving you a conversation view. This puts the specific tweet you might want to share in context so it make more sense.
Tweets with photos from pic.twitter.com and videos from YouTube appear with the media visible. If the tweet includes a media source from another provider, your visitors can click through the tweet to display the image or video.
Approach 1: You can now add Customer Comments and Testimonials to Your Website or Blog
@JJDulingInt Thanks
for your help on the webinar.And the article was perfect. You always do a great job!Will see you in Miami.— Don Trader (@DonTrader1) March 29, 2012
 This is an actual embedded Tweet—You can see all the Buttons and Links work!
The ability to include tweets from satisfied customers will give you spontaneous testimonials to display on your website or blog giving credibility to your brand. Before embeddable tweets, you could use the Twitter widget to add a list of customer testimonials to your website. Now with the embeddable tweets, you can highlight and share a single tweet without creating an entire list.
When prospective customers browse your website, they are looking for reasons you are better or different from someone else offering the same services or products. Actual tweets about your business or service make the website come alive and could generate more leads and conversions.
Approach 2: Prolong a Twitter Conversation in your Blog Post
For bloggers often a Twitter conversation becomes the insight for a particular blog post. You can embed part of a conversation into your blog post and reach more people than the original Twitter conversation.
Think about choosing a Tweet that includes a question. Each person who reads your post can join in the Twitter conversation directly from your blog. It's a great way to develop your network and invite people who missed the original conversation on Twitter to join in.
@DonTrader1 You are
very welcome.Think that Michael will have some imput for next time.The
article he mentioned is precisestrategy.com/blog/ten-timel&— JJ Duling Int. (@JJDulingInt) March 29, 2012
Just to avoid the obvious reply…it even captures your typos like "imput", oh well…
Approach 3: An automatic Call to Action
In our previous articles, we have discussed the importance of making sure you have a Call to Action.  You may or may not know how to create ads or Calls To Action (CTA) tabs for generating leads. You can now have the option of using an embedded Tweet instead and achieve the same result. You might create an embedded tweet to offer a free report or eBook on a topic in exchange for their contact information to build your email list. Not only can you grow your email list, but the prospect walks away with information and is likely to return to your site for more instruction, information, or additional resources.
Moreover, the customer is likely to spend more time at the website or blog when there is an embedded Twitter widget. This means that any ads, deals, announcements and other website content will get more exposure.
@donTrader1Don't
forget to get the Free eBook on Social Media socialmedia.precisestrategy.com/inevitable-soc…

— JJ Duling Int. (@JJDulingInt) March 30, 2012
Approach 4: Event Round-up comments
Many conferences and trade shows today have a Twitter screen display that shows the comments and conversations going on among attendees. People often write enthusiastic tweets during events. You can capture their excitement by embedding those tweets.  So you just left a trade show and heard excellent feedback on your brand or product(s).
You can capture selected comments and share them on the event website, a daily wrap-up blog post, or event wrap-up post using embedded tweets. This will help you both get more followers and encourage them to share your summary posts on the event. Maybe you'll even find some new prospects out of this?
You guys @JJDulingInt put on a Great Conference!A Super Experience!

— Don Lyles (@DonSuccessbiz) March 31, 2012
If you are a larger company and host Twitter meetups, or Tweetups as they're commonly called, you can capture tweets made during your event and share them on your website or in a blog post about your event.
Approach 5: A mini-guest blogger – Add views and thoughts from Others to Your Blog Posts
Many bloggers invite Guest Bloggers to post articles on their blog.  In turn they include opinions and quotes from those guests and often other people in their blog posts. Take that practice a step further and now you can embed tweets from other people into your blog posts.
@DonSuccussbiz If you are going into business online, one of the easiest and most lucrative methods is through Affiliate Marketing

— JJ Duling Int. (@JJDulingInt) March 31, 2012
Using your blog as the platform, the embedded tweets allow your readers to connect with new people on Twitter and jump into the Twitter conversation.
Approach 6: If you provide Training Classes, Webinars or Speaking Engagements- Share Audience Questions, Answers and Comments
Most live events broadcast live streams as well in order it involve excess capacity.  Typically, Twitter is used to solicit questions and comments.  Some of the most unprompted compliments about your business products and services occur during these conference sessions or webinars. You can capture these tweets and embed them into your blogs to demonstrate what people enjoyed about past conference gatherings.
When speaking at an event, audience members often share the highlights of your talk on Twitter along with their compliments of your talk. You can share these tweets on your website speaker page as testimonials of your presentation success.
Approach 7: Add a Tweet to Your Email Signature
In your business email signature, you have a small space to make a big impact. You can now embed a tweet in your email signature. How cool is that? Say you get some great feedback from a Twitter follower; Why not embed a tweet of that glowing customer comment to help you seal the deal with a potential customer? You can display that tweet in your email signature for the day or week. Add a tweet about an upcoming event or special.  Change it up as often as you'd like. Fun and easy.
In summary, Twitter has been a very powerful, real time communication, media filtering, and news filtering tool. Now Twitter is a portable power tool. Specially selected and embedded tweets will help to keep visitors at the website for a while. News can be shared easily when there are multiple websites. Finally, visitors can still get the benefits of Twitter without full immersion or having to go back and forth between the website and Twitter.
WordPress Tweet Embed Plugin
WordPress is widely used by beginner and intermediate web developers, so it seems fitting to start with a plugin for your WordPress site. The WordPress Tweet Embed Plugin is the easiest model to embed a tweet. If you can copy and paste, you can use this method. Download and install the plugin as you do any WordPress plugin. When you see a tweet you want to embed, click on the link to open the full article. Copy the URL from the address bar of the web browser and take it to your WordPress dashboard.
Open your New Post page in the Visual tab where you would normally write your post and paste the URL on a separate line from other text. Then you can format it –Center, left, etc…

Click Save Draft and Preview how it will look in your post.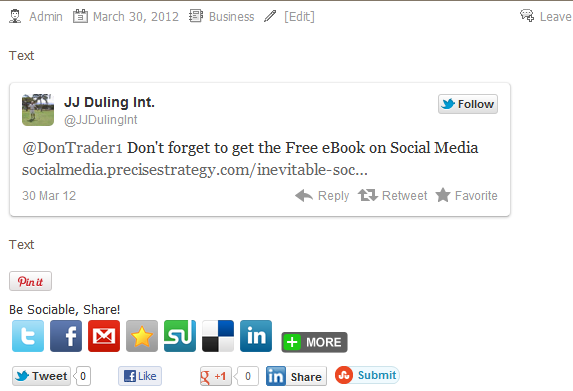 Direct HTML
You create an embedded tweet by inserting special HTML code into your website, blog post, email signature or anyplace that accepts HTML code.
Note: Before you get the HTML code, make sure you know where you are going to insert your embedded tweet and know how to insert HTML in that tool.
To get the HTML code to create an embedded tweet:
Locate a tweet on Twitter.com that you want to embed. Hover your mouse over the tweet and click the Open option.

2.  Click Details.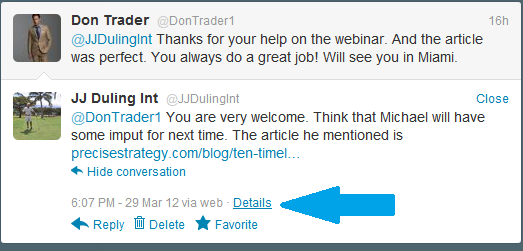 3.  Click Embed this Tweet.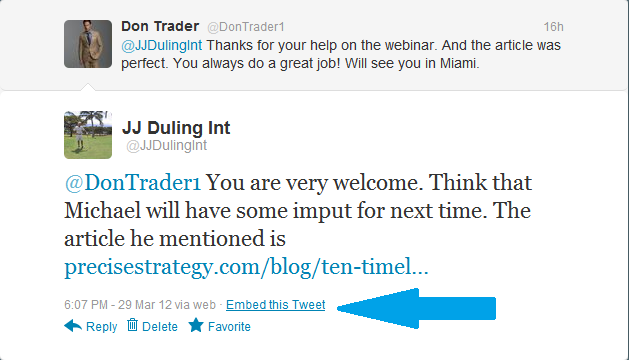 Twitter displays the Embed this Tweet window.
4.  Choose the alignment option for your tweet (left, right or center).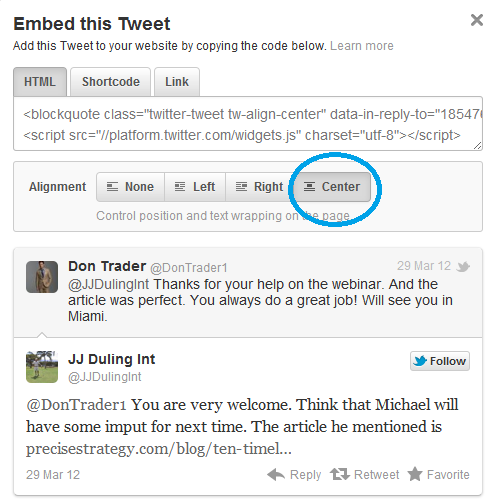 Twitter adjusts the HTML code for the alignment option you choose.
5.  Click inside the HTML code box to highlight the code. Note as above I choose "Center."
Copy the HTML code (CTRL+C or Command+C) and paste it into your website, blog or other destination. Copy the code and paste it into your HTML tab, to the position where you want the tweet to show up. Click Preview to see it displayed in your article.
Once you experiment with options, you will see it's very easy to do! Give it a try and be proud of yourself for tinkering with code and get your content shared through another avenue. Let us know how it worked out for you!
Precisely.
[pinterest]