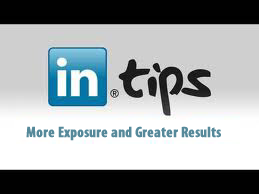 If you are like most business owners, you are trying to maximize you online marketing campaign.  Between Facebook, Twitter, and other social media platforms you may begin to think that you just don't have time for LinkedIn, besides it's just a place for people to look for jobs, right? Wrong!  You cannot afford to ignore LinkedIn and to help you get started; here are the top 7 LinkedIn marketing tips.
1.    Follow The Crowd
Did you know that LinkedIn is growing at a rate of one person per second!  With this kind of expansion, you could increase you customer base everyday!  But, can you actually target potential customers or is it just a bunch of job seekers?  LinkedIn is an excellent place to connect, share, network, and educate.
2.    Give Your Profile The Attention It Deserves
One of the most underrated and overlooked aspects of any social media networking site is your personal profile.  Just like when you select your URL or article titles, you need to focus on keywords.  Be sure to include your keywords in your headline.  If you want the people searching for those specific words to find you, then make it easy for them.  Most of your potential customers have never even heard your name, so why put so much focus on it?
3.    Don't Push Or Try To Sell
This is just a platform used to find opportunities and share your knowledge with potential clients or partners.  Don't be the pushy salesperson!  It is rude!
4.    Join Groups
The groups in LinkedIn are awesome.  You can find one that is in your personal niche and ask permission to join.  Once a member, be sure to add something of value, whether it be advice or informative content.  This is an incredibly easy way to prove that you are an expert in your niche.
5.    Begin You Own Group
Can't find a ground that fits you? Start your own.  This is a great way to build your customer base quickly.  You can invite all your contacts to join you, create educational discussions, encourage people to voice their opinions or leave links, and before you know it they are spreading the word and attracting more people to your group!
6.    Utilize Your Events
Do you have something new and exciting about to take place?  Perhaps a webinar, special offer, or free consultation?  If so, LinkedIn is a great place to advertise these.  Plus, you have the additional bonus of being able to promote to your groups as well.
7.    Make Yourself Easy To Find
Be sure to include your LinkedIn profile link in your signature, on any e-mails, and anywhere else your clients might be looking.  The whole point is to attract people to your site or business, so be sure to provide links to it!
Unlike other social networks, you can get right to the point in LinkedIn.  These are businesspeople ready to do business.  You won't have to wade through pictures of talent shows, Halloween parties, or personal vacations.  You can keep everything professional and straight forward.  Networking is a key tool in the business game, so make sure you are on the winning team.
For even more LinkedIn marketing tips to take your campaigns to new levels, visit:
Turbo Charge Your Business with LinkedIn.
For a FREE quick review of things to avoid, visit Fatal LinkedIn Marketing Mistakes.
Precisely.
Jerry Duling is a Marketing and Business Consultant, Professional Speaker, and Social Media advisor. Jerry shows businesses how to use Social Media to build their brand, generate leads and close sales. Jerry also provides individual resources for the Internet Entrepreneur. Connect with Jerry on Google+.
[pinterest]