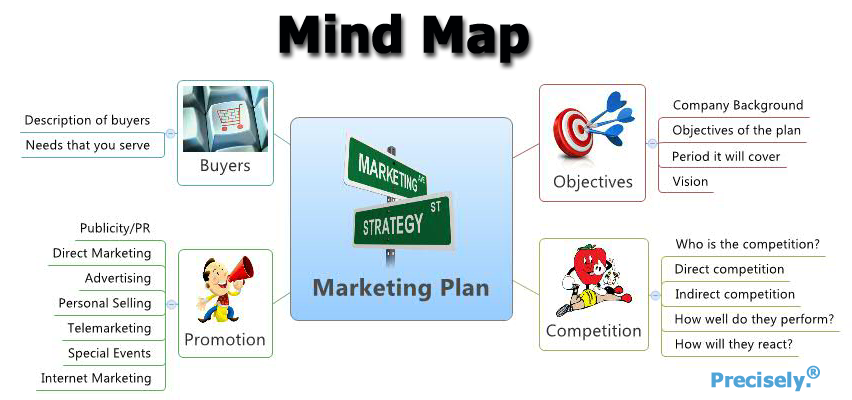 A mind map is simply a visual thinking tool that shows you the bigger picture. It's really helpful in creating a business plan or a marketing plan since there are often so many details and tasks.  Without difficulty you can see how everything fits together. Mind maps are ideal for creating, evaluating, and analyzing ideas.
Mind mapping is generally linked with the popular psychologist Tony Buzan.  It uses the concept of "radiant thinking" – that is, thoughts radiate out from a single idea, often expressed as an image. Branches flow backwards and forwards from and to the central idea.
Mind maps are similar to the older spider diagrams (but not the same).  The spiders were typically done on paper and in a hierarchical format and without color or the use of images. It is still useful to start with pen and paper.  But, if you are like me,  the main problem is that a mind map can easily get out of control and you run out of paper. On the other hand, virtual mind maps can be done online and there are no edges to run off. These are free web-based or desk top programs that allow you to add nodes and write text as you get ideas.
A very easy program to use is Text2Mindmap; you just simply enter the text.  It is limited, but does get you started.  I have used FreeMind which is open source, can be installed on your desktop, and is more flexible. My favorite free program is XMind, it just suits the way I work and is a desktop application as well.  The Brain is also good, but it is a more sophisticated map and organizational tool. Beyond that, there are several options with a free trial or limited use provision. The bottom line; there are simply a number of programs available with a variety of different features.  The important thing is use something that is easy and gives you the ability to quickly and freely note your ideas.  You don't want to get bogged down with software.
Below is an example of a mind map for Facebook marketing.  It is not entirely complete but gives you an idea of how 5 minutes of your time can get you started:
How a Mind Map Works