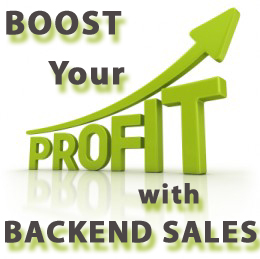 As an online business owner you should give serious consideration to your use of back-end offers.
A back-end offer is simply a product or service that is suggested to your customers after they have already purchased something from you. Some back-end offers are presented immediately after your customer makes a purchase. Others are "trickled" out to them via follow-up emails and special sales or new product announcements.
The back-end offer should supply the answer to the question "what's next?" It should be related in some way to the original product, and the most successful back-end products are higher-priced accessories that make it simpler, easier, or better for the buyer than simply having the original. Simply, a back end product should further enhance the original product.
Back end sales are much easier to make than an initial sale, since you have already acquired a willing customer. In fact, once you have a series of back end products that yield consistent revenue, you may even be able to afford to take a loss on the initial sale.
For example, take a look at the infomercials on late-night television. Many of these actually lose money initially. However, you will then be sold a variety of add-on items to make the first product work more effectively or efficiently, and will be sold a subscription offer, vitamin plan, etc…  This is very lucrative.
To be honest, I really dislike a lot of the back-end tactics they use on those infomercials. I realize why they use them — they are very profitable — but I always get the feeling they're trying to squeeze me dry.
As a result I decided a long time ago to take a more relaxed approach to back-end sales. And fingers crossed…it has worked very well for me.
I've compiled a list of the important aspects of back-end sales that have served me well over the last few years. If you do any sort of business online, you need to give serious consideration to both what you offer on the back-end and how you offer it. Continue reading »