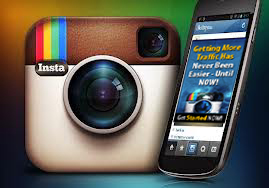 Beautiful Photographs Mean Business Success
The local coffee shop (or just about any offline business) can become the latest and most popular hangout for the locals; if you know how to take a photograph that make people go "Wow."
By just taking daily pictures with your smart phone, and posting to your Instagram account, you might have all the advertising you need and generate a lot more business. No way, you might be thinking.
Well guess what? It's yes way, but you have to take right kind of pictures. Will your photos inspire, create imagination or have people yawning at them? These are the big questions. So before you snap a photo consider who, what and when.
Sometimes you can snap that one in a million photograph that everyone absolutely loves. It gets passed around 10,000 times or more and you have followers coming out of the woodwork. Good Job!
For the rest of us, before you take a bunch of photographs and load them into your Instagram account, shouldn't you have a plan first? Shouldn't you at least find out what is the hot topic your customers want to see more of?
Maybe there is a trend being set across the internet you can tap into. Ideas and great photos happen because much of the time people research what is happening around the world. They tune into the emotions or subject of the day and make it happen with simple but powerful snapshots.
This is no different for the coffee shop owner. People love coffee but they also like to see real events and real people. So just substitute coffee for any other kind of business, create trendy pictures and you could be the next trendsetter.
So if the owner of the shop wants to boost his or her sales, simply snapping real time pictures of customers, staff and other daily events can draw some serious attention. Look at Starbucks. They know what's up and they are huge because they promote their customers drinking coffee… they don't sell coffee, the sell community.  Now find YOUR niche as a top Instagram promoter and follow what they are doing but add your unique twist.  You can get a helpful free resource called Instagram – A New Marketing Frontier that gives you some keys.
Take weird out of focus pictures, show people in introspective moments in their lives; photograph the sky and add weather pics; Now you might be thinking really why? It's austere, unique and different to what we see every day. It works and challenges people to think about your pictures and visit you.
It's not about what you think; it's what your customers want. If they want unique, then give it to them. As long as you market through your customers eyes, plenty can happen to propel your business.
Precisely.
Jerry Duling is a Marketing and Business Consultant, Professional Speaker, and Social Media advisor. Jerry shows businesses how to use Social Media to build their brand, generate leads and close sales. Jerry also provides individual resources for the Internet Entrepreneur. Connect with Jerry on Google+.
[pinterest]