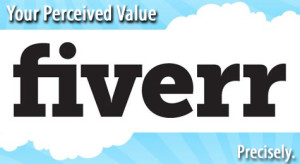 Improve Your Perceived Value
If your Fiverr gig isn't getting a lot of attention and you're not getting many orders, it could be because buyers aren't seeing any perceived value from your offer. Many newbies to Fiverr make the mistake of offering too much for the money they charge.
You see, those customers you're trying to attract want to see value for the $5 they're paying. Unfortunately, there are also customers out there who would love to take advantage of cheap labor to get what they want.
This is where you need to walk a fine line between offering too much and offering quality.
Too Much for Too Little
Imagine that writing a 750 word article takes you thirty minutes. You put up a gig on Fiverr saying you'll write a 750 word article that is brilliant quality and you'll do it for $5. That's a really low hourly rate, but it's a start. Continue reading »