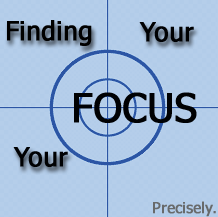 I was reminded last week during a lunch meeting with a friend on his way to starting his first entrepreneurial venture of the excitement, eeriness, anticipation, and maybe a little feeling of downright daunting.  Most importantly I was reminded of the process we must always go through.  If you have decided to start your own internet marketing business.  Good for you!  But start with the basics- no short-cuts.  Just like any other business:  FIND YOUR FOCUS.
Make no mistake about this: A number one reason most new Internet entrepreneurs get derailed is information overload.
Even the term "information overload" has become another phrase we slip over glibly. What it means is: Allowing yourself to be lured away from the dinner table by too many hands dangling candy, ice-cream, or cake. (Pick your poison:))
Before you ever set out on your journey, you should know the answer to these ten questions:
What do you want to be best known for? In your niche? In life?
What does your business offer people and what is its mission?
Is it a retail business or service oriented?
Do you have a clear vision of your goals?
What major, unique advantage does your product or service offer that your competitors don't?
What is your biggest passion in life, as well as the most important thing in your universe?
What are your top four strongest skills?
What is your unique, money-making advantage?
Are you planning to expand your business to include staff or outsourcing? On what scale? When?
How much money would you like to make by the end of the year? At the end of five years?
If any of these questions have caught you short, go think about them now.
Write the answers down. (See article: Bankrolls and Goals)
Writing things down helps "ground" them – make them part of your reality; of who you are and where you're going. Simply reading or thinking them keeps them floating around in the realm of possibilities to be tackled "some day".
And if you know the answer to these questions, you'll be much less likely to be led off your path by some irresistible online offer!   Believe me —you will get plenty!
A business plan?
Done with that…then it's vital to have a business plan but, that being said, your plan can be as complex as a 30-page detailed form designed to impress your bank manager or as simple as an outline scribbled on a napkin. The real issue to me is the process.
The two most important points to remember when creating your personal business plan is that it is:
A "skeleton structure" – to be fleshed out as you go
Flexible – adapting to new information and changing
demographics or needs
The U.S. Small Business Association currently provides an excellent interactive business plan template, well worth using (no matter what country you live in. The Canada Business Network also offers several types of free business planning tools.
If neither site appeals to you, simply search for "free business plan templates" on the net to find the unique template that works best for you.
If you are more of a visual learner, you can use mind-mapping software. bubbl.us is currently the easiest free mind mapping software on the net – five minutes of playing will make you an expert.
But no matter what type of business plan structure you use, there is one key point to keep in mind: The more outside financing or start-up funding your business needs, the more detailed and formal your plan needs to be. (In other words, keep the business napkin version for yourself!)
Your business plan should also reflect both short and long-term goals. For example, where you want to be…
In three months
In six months
In a year
In three year
In five years
You want to BE SPECIFIC
The more concrete your ambitions, the more likely you'll stay focused on reaching your objectives and goals.
Figure out how to KEEP IT STRUCTURED
Another way to ensure you don't set off down the slippery slope of distraction is to make structure your friend. Decide on the best structure for your business; then stick to it!
This doesn't mean compelling yourself to make lists, if you're just not a list maker. It doesn't mean making yourself to work from eight a.m. to five p.m. every day, if your daily schedule changes around other people's schedules, or making yourself use an online scheduling service when you prefer notes jotted on a physical desktop calendar.
It simply means creating a structure that works for you, naturally following your optimal work patterns.
Creating a structure helps you produce better and more focused results, more effectively, by:
Creating good habits
Helping you "practice" and quickly become comfortable
Ensuring you achieve a regular output
Helping you keep your focus narrow and simple
Assisting you in avoiding distraction
Ensuring you don't "miss" tasks you need to perform
Keeping you organized!
Go with your own natural learning and work style: If you are highly visual, use a daily mind map.
If you prefer written data and find it helps to solidify things in your consciousness, by all means go for day-timers, physical desktop calendars or lists.
If you prefer to keep everything digital, on your computer, use a service such as Google calendar or Outlook. Google offers some great services, if you haven't signed up for your own Google Account, do so immediately! It's free and you'll be able to help yourself, down the road, to a whole host of basic but priceless tools, including gmail accounts, Google+ and Google analytics.
Discover the best time to organize your day or week. If your mind is sharpest first thing in the morning, write your plan for the day with your morning cup of coffee: If you're a night owl, making writing your plan for the day the last task you do at night.
Whatever way you choose to work, set up a structure and stick to it! Structure is your friend: Ironically, the more you indulge in it, the more freedom you'll create.
Create a budget and work WITHIN YOUR BUDGET
Your budget should be divided into two sections:
Startup (one-time set up fees, investments and payments)
Ongoing (your regular, monthly cost of operation)
Even if you are planning your business on a shoestring, you will need at least twenty dollars a month set aside for an Autoresponder service (and we're assuming you've already set up your website or blog and web hosting).
Without an Autoresponder, you won't be able to easily build your list.  I like GetResponse, but Aweber and others are good as well.
Your spending can easily spiral out of control without a plan. The most common cause? The more you dive deeper into the marketing world, as I mentioned above  – the more you'll find yourself presented with offers – all of them geared to make you feel you simply MUST have that product or you won't succeed.
Remember this: Not all products are appropriate for every online entrepreneur, no matter how awesome they seem! For example, if the type of content you have to write is drop-dead simple, you don't need to invest in a high-ticket copy-writing course – no matter how many "secrets" they tell you are vital to your success. And you don't need to buy the latest traffic-generating software.  There are lots of simple, effective (and free) ways to generate all the traffic you need.
Keep your cash only for offers that relate to your specific goals. Set a monthly limit. Stick to it.
If you anticipate generating sales almost immediately, you can create a sliding scale. For instance, if you make fifty dollars (after your regular monthly expenses) you might want to allot a maximum of twenty dollars for investing back into your business.
How you elect to invest back into your business is your choice: It could be taking advantage of a special offer, subscribing to a new service or having business cards made up.  Have a separate list of "things needed" and check them off as you do.
Just remember, if you arrange in advance how much you can spend (proportionately) and where, you'll be less likely to get drawn into the bottomless pit of spending more than you make on special offers you don't really need.
I hope this is enough to get you started….there are some other articles here and certainly some opportunities. But first things first, if you pass the basics test…you are on your way!
Precisely.
Jerry Duling is a Marketing and Business Consultant, Professional Speaker, and Social Media advisor. Jerry shows businesses how to use Social Media to build their brand, generate leads and close sales. Jerry also provides individual resources for the Internet Entrepreneur. Connect with Jerry on Google+.
[pinterest]