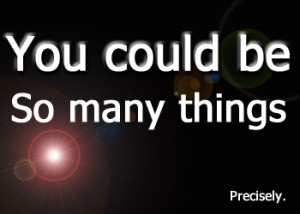 After the graduation ceremony, Jerry walked up to his grandson and asked, "What kind of job will you be looking for, Arthur?"
Arthur was known among other family members as someone who loved to laugh. He was always looking for a new one-liner to share with everyone. So, Arthur grinned and replied, "Any job will do as long as I get a paycheck."
"Seriously, Arthur, what type of work would you like to do?" asked Jerry.
"It doesn't matter," Arthur replied. As long as it's not too hard, I'll be willing to give anything a try."
"Why don't you apply for a job at your favorite pizza restaurant?" asked Jerry.
"I plan to do that tomorrow," said Arthur. "It would be a great first job. I may see if I can just work part time. That way I can also work part time at Banana Republic at the local mall. I saw an ad online yesterday, and the store is hiring several part-time workers."
Before he went to sleep that night, Arthur took his job aspirations to the Lord in prayer. "Father, I thank you that you love me and that you are directing my steps," he prayed.
"I do want to direct your steps," the Lord replied. "So, it's important that you ask for my help before you make any plans related to a job. I want you to work at both Giovanni's and at the Banana Republic, but I want you to work full time at the mall store and part time at the restaurant." Continue reading »