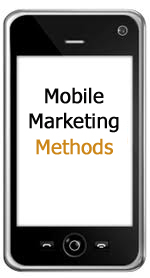 Mobile marketing is an emerging marketing method that has a great potential. The huge availability of different features of mobile phones make mobile marketing an opportunity for the modern day marketers. These features can be used for different kinds of marketing and there are a number of techniques that can be used. Let's do a quick review of all these methods and discuss their effectiveness.
Short Message Service – SMS Marketing
Although the number of smartphone users is increasing daily, the feature phones are still dominating. It is interesting to note that China's smartphone shipments surpassed those of feature phones for the first time ever during the second quarter, so the gap is narrowing.
Notwithstanding, SMS is a way of communication that is still widely used even with the rise of the smartphones which boast of various other messaging features. SMS marketing is basically a method of marketing in which the ad content is sent to a mobile phone via SMS. SMS is very popular and its popularity aided the rise of SMS marketing. Many small businesses rely on SMS marketing. SMS marketing has attracted negative attention because various businesses purchased lists of mobile phone numbers and sent unwanted ads to them all. Even though this practice resulted in SMS spam issues, the implementation of strict guidelines by the operators has increased SMS marketing popularity once again.
Another form of mobile advertising that uses SMS technology is SMS shortcode. A shortcode is a 5 or 6 digit number on which the potential customers can send their queries, feedback etc. as an SMS. Short codes are widely used for value-added services such as television program voting, ordering ringtones, charity donations and mobile services.  One can even subscribe to various services through shortcodes.
Benefits of SMS Marketing
Potential Audience. The main benefit for SMS marketing is the use of SMS technology by the masses. No matter what kind of phone one has, SMS is generally used by all. So SMS marketing has a huge potential audience.  The markets of developed nations are saturated. On the other hand, the markets of the developing nations are growing. Since most users of developing nations use SMS technology, deploying mobile marketing in those areas makes good sense.
Efficiency. An SMS can be sent to a vast number of people in a short span of time. This obviously simplifies the process of reaching  a large number of people in less and  with less effort.
Disadvantage of SMS Marketing
Short Message.  The major problem with SMS marketing is that there is a restriction on the number of characters that can be used for SMS marketing. In United States, for example, the SMS is limited to 160 characters and in some Asian countries the number of characters is limited to 70 characters per SMS. This hinders the marketing capabilities as marketers find it a challenge to put across their message in a limited number of characters.
Negative Image.  SMS marketing can have a negative impact on your company's image. In many cases, the marketers buy a list of mobile phone numbers from the operators and they send ad content which might be completely irrelevant as the numbers are usually randomly chosen. To protect your reputation you should be more cautious when using SMS marketing to avoid being labeled as a spammer.  Mobile phone users may have the option of registering with Do Not Disturb registries. If you send a marketing SMS to such numbers, it may draw a penalty.
Multimedia Message Service – MMS Marketing
MMS marketing is essentially a form of mobile marketing where the ad content is sent via MMS. A marketer can send slideshows, images, audio and video content through MMS. Most mobile phones that have a color screen support MMS technology.
Benefits of MMS Marketing
Multiply formats.  MMS can handle pictures, graphics, audio or video files and transmit them to the end user.
Expressive Ideas.  This enhanced ability provide marketers more freedom in coming up with the ideas to engage with the customers as they can use media that can deliver an even more meaningful message as opposed to what an SMS could deliver.
Size. MMS messages are not very lengthy and their bite sizes are not too heavy generally.
Disadvantages of MMS Marketing
Negative Image.  Similar to SMS messages, MMS marketing messages are sent to mobile phone numbers which are often purchased from the operators. The messages are sent randomly which is why it may be labeled as spamming. The users may not want to receive unsolicited messages and if this leads to user discomfort; it can affect the image of the company.
Proximity – Bluetooth Marketing
Bluetooth, a short-range wireless system supported by many mobile devices, is one transmission medium used for proximity marketing.  Bluetooth marketing is defined as using Bluetooth enabled transmitters to send multimedia ad content to the users Bluetooth enabled mobile phones. Bluetooth advertising can send file formats like image files, ring tone files, vCard, barcodes, audio files, Java applications, mobile applications, video files, text files and theoretically any file format mobile devices can handle. In shopping malls etc. the transmitters automatically send you the ad content. This form of marketing is quite popular and has gained momentum in all parts of the world. Bluetooth marketing is very effective as well.
Benefits of Bluetooth Marketing
Multiple Formats.  Many file formats can be sent over Bluetooth. You can send text, pictures, video etc. among other media files.
Low cost.  No transmission costs tend to boost this marketing arena as well.
Interactive.  Bluetooth marketing can be easily made interactive. One can send games, surveys, feedback forms and questionnaires etc.
Technical Advantage.  Bluetooth marketing has a lot of technical advantages over SMS or MMS marketing methods as the data that can be transmitted over Bluetooth is robust.
Disadvantages of Bluetooth Marketing
Security Risks.  It has been observed that Bluetooth transmission may lead to security risks to mobile phone users. Virus and other malicious software are easily transferred by Bluetooth.  The perception of the risk regarding Bluetooth technology has hindered the growth of this marketing method.
Mobile marketing is an excellent way to increase your brand awareness, collect customer information, or simply engage consumers in your buying process. Have you used a one of these forms of mobile advertising?  What has been your experience?
Precisely.
Jerry Duling is a Marketing and Business Consultant, Professional Speaker, and Social Media advisor. Jerry shows businesses how to use Social Media to build their brand, generate leads and close sales. Jerry also provides individual resources for the Internet Entrepreneur. Connect with Jerry on Google+.
[pinterest]