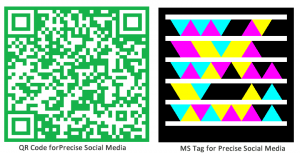 We discussed some of the basics regarding QR Codes and MS Tags, so let's think about our QR code campaign strategy.
To create a winning QR code campaign, it is essential to(i) identify with your target audience; (ii) have clear purposes; (iii) and above all else provide incentives to convey a favorable user experience.  First let's keep in mind the bigger picture and keep it simple for starters… Communication – There's no boundary to how, or even how much, you can share with QR codes or MS Tags.  A video, squeeze page, or landing page is easily shared and common. You could go further and share an entire eBook and even multiple pieces of content that share a common link, or pay with PayPal.
Your Social Network is build through communication and sharing, and one of the favorite places for doing this is Facebook.  You can use Likify to create a QR code that links your mobile device to a fully functioning LIKE button for your Facebook page.
This really makes the process of assimilation your other communities with your Facebook page much easier since it is all accomplished in one click.  The "thumbs-up Like" signature clearly suggests the purpose of the code.
Every website should have a call to action, a response you want users to complete.  After building a social network, the next logical step is to rally them to take action.   Do you want users to complete a contact form, signup for a newsletter, opt in for a free eBook, or volunteering their time?  Whatever are you trying to accomplish, the call to action is key.  Below you can combine your Like code and direct them to an opt-in /Like page to build your list.
The QR code above takes visitors to a Facebook page welcome tab where the calls to action are Liking the page and a List Registration opt-in below.
Here are some ideas and considerations to help you get started building your strategy.
Prepare and map your QR or MS Tag strategy.
Identify with Your Target Audience:
Will consumers have to change their behavior to accommodate QR codes, or is it part of their journey?
Does your audience need instructions about the use of QR or MS Tag codes?
Does your audience need to use a specific type of code reader?
Where will the codes be scanned…i.e. indoors, dark (restaurant) or light room or outside, is there an internet connection?
Will this alienate consumers who are not digital-savvy / do not have smart-phones?
You can also get an easy to memorize short URL from bitly or other traffic tracking URL shortening tools
 Does the content you are linking to ADD VALUE to the customer?
Have Clear Objectives—Here are some possibilities:
Cultivate your social network
Grow your email list
Increase Likes for your Facebook page
Increase your blog subscribers
Grow you subscription site
Improving customer communications
Provide Incentives—Here are some options:
Download a free eBook or MP3
Offer a discount for paying with QR Code
Contest- enter to win different prizes
Provide a discount coupon for a service, meal, or subscriber
Talk to a live agent
Provide a virtual tour
Use a Video to demonstrate a product or service
Provide Special access to a certain area…i.e. Training
You should always provide an incentive, if you are attempting to improve your email list or your Facebook LIKES.  The one thing your strategy needs is for you to understand that the person scanning the code expects something more.
You can, but don't send them to your website. You can, but don't just send them to your Facebook page. Send them to the next step in something grand.  Send the user to insightful informational content about the product in question or the company itself.
Have a code on your menu? Send them to a list of exclusive recipes. Have a code on your business card? Send them to a video that explains the benefits you get from signing up for the company e-newsletter, and then have a link there to let them opt in to receive it. Have Tags implemented on caps or table toppers? Send the user to informative content about the product in question or the company itself.
If businesses fail to deliver value with their QR code campaigns, consumers in general will become bored with them and more reluctant to scan them in the future. This will make it increasingly necessary to provide clear incentives and deliver on them.
Produce quality codes and make sure they work
While there are a variety of 2D code formats, we have mentioned the two most commonly used worldwide; QR codes and Microsoft (MS) tags. Both of these technologies are free, your selection of which to use will largely depend upon your audience and other market factors.
The QR code technology is free to use. This gives QR codes the benefit of being in the majority with regard to use around the world, and that familiarity is currently working to their advantage.
The MS tag technology is proprietary, which provides for absolute control over the entire user experience of generating, reading and tracking the tags. MS tags are also easily tailored and customized. One can embed images or logos into the codes using a number of options like Photo Shop or Microsoft PowerPoint.  See my logo.
As you would expect the widespread application and use of the QR technology has attracted lots of developers who want to cash in on the trend. Bear in mind, when technologies are open like this, there is always the risk that generally accepted standards will not be followed. QR code generators and scanners are only as good as the developers creating them, so you have to do your homework. If your QR codes don't work, your reputation and brand are damaged.
Here are some fundamentals that will maximize your success with QR codes and MS Tags:
Make sure your QR code is not too complex and contains too much information.  If your code is complex it will generate comparatively smaller pixels and many QR scanners on lower quality smart-phones may not be able to read it properly.
Test your QR code to see whether it is working properly using various QR Code readers and on various devices and also make sure it can be tracked in your web analytics tool…

If you are using coupon codes, make sure they are properly working.
If you are pushing the QR scanner to a specific URL, make sure the URL is properly working.

Use link shorteners to create clean codes.
Avoid using colors that do not provide sufficient contrast—a potential problem with both QR codes and customized MS tags.
Make your codes at least 1″ x 1″—larger is better.
Provide a sufficient white space around the code.
Steer clear of using 2D codes on highly reflective surfaces.
Consider where your codes will be scanned.  Is there is an Internet connection.
Use a quality QR code generator. My favorites are ZXing Project and BeQRious. Another that has worked well for me is Kaywa, a site created by Datamatrix.  You can use these enhanced generators to create QR codes that link to a web page, text, phone numbers, or SMS.  One with even greater capabilities, including customizing the color and format of your codes is Kerem Erkan.
Use a quality scanner or reader. Some excellent choices are QR Reader for iPhone, QR Scanner, Qrafter and i-nigma. Qrafter is unique in that it is both a code generator and scanner in one app. The QR code reader app that works well on my iPhone is the i-nigma.  It accommodates virtually any type of camera phone. For the android, you can also try Barcode Scanner. If you already own the popular price-checking app Red Laser, they've recently adapted their technology to accommodate QR code reading.
Make sure your codes are Linked to mobile-friendly or mobile-optimized sites
One of the more common mistake marketers make with QR codes  and MS Tags is having them resolve to a standard web page that is not mobile-friendly. You must take into account the video format of the site.  You cannot have a code connect to a site with Flash video, which is not supported by the iOS devices (iPhones and iPads) that account for a majority of the code readers in the world.
Mobile-optimized is better than mobile-friendly.  When building a mobile site:
Build your site around the desired user experience. Remember to put all the most important information that you want mobile users to see on the top of the page like site search and navigation. It can be time consuming to browse through a mobile site, not to mention tedious to read through. Make your mobile site design convenient for your consumers.
Smaller images and solid colors load more quickly. The phrase "less is more" holds true to mobile design. Avoid using unnecessary graphics.
Keep download time in mind.  Avoid background images… they can reduce readability in certain lighting conditions. Combine smaller images, like icons, into one file and use CSS to position them on the page. This reduces the number of http requests your device has to make. Lastly, reduce size of images and minify JavaScript.
Design for fingers. Click targets should be a minimum of 30-40px in size and use whitespace in between elements to ease click-ability. Size your links and buttons to be touch-friendly.
It is easiest if your site is coded using either XML or XHTML, with your character encoding set at UTF-8.
Use succinct copy—sentences rather than paragraphs.
You have to consider that different mobile devices have different screen sizes. Design and build with a "fluid" layout in mind.
Test, test and test again—on iPhone, Android and Blackberry platforms. Your site must use CSS for the layout to ensure maximum compatibility. Avoid using tables.
Forms can be difficult to use on a mobile device. Since text is time consuming to enter, you may want to offer your user the convenience of radio buttons and lists, which they can choose from depending on what they need. Also, reduce the number of screens a user passes through to complete a form. Form labels should be top aligned rather than left aligned to save space.
Forms should require the minimum amount of data input and should remember the data for the next time a user visits the site.
The principal benefit of 2D codes is encouraging action. This can be accomplished by connecting to multimedia content such as video that shows a product or service in action. Other logical actions include activating a phone call or social sharing.
Here's a list of the most requested features for mobile-optimized sites:
Social sharing links.
Google maps integration.
Tap to bookmark.
Tap to call links.
Tap to email links.
Tap to SMS (text).
Links to other mobile-optimized sites like Yelp, Youtube, and Vimeo.
If you are not ready to mobilize your site, there are services available to do that.  DudaMobile is one I have not used, but have heard good reports.  If you are using WordPress, there are some Plugins that do most of the work and provide a great experience.
Measure your campaign-Analyze and examine your scan data with code management systems
The success of the QR code campaign will not only depend on the number of scans it accomplished daily, but worth more while making an user spent some time interacting with your website which helps engaging with the business.  QR codes and MS tags can presently track basic data. However, if you use a QR code management system, you can gather even richer data. These are all in the early stages of their development cycle. Most of these services are free for limited used. According to Microsoft, "MS tags have the capability to accurately determine the location of a scan and report that data in real time." This sets up a number of code management prospects, such as delivering diverse content depending upon the location of the scan.  One could provide directions to the store or a discount coupon for those in or near the store. It also can be helpful in advertising through online portals, social media, etc. to make a successive campaign. If the number of scans drops, it will be an indication for reduced user experience.
The Consumer Experience Is Ultimately What Matters- Provide value and a positive user experience
QR Codes and MS Tags are just tools, and how you use the tool determines the value derived from it. What is most germane is that you as the marketer are the one who gives your codes value. Provide clear incentives and deliver on them.
QR codes and MS Tags can serve many specific uses for you.  The most prominent would be as a lead generation tool. You don't have to necessarily replace your current lead generation programs; you can often just modify them. If you can use what is working for you now and make it even better, you are likely on the right track.   If you can identify tangential opportunities and make it more attractive or easier with QR codes or MS Tags, you are likely speeding down the right track. One of the fundamental rules of marketing is you have to meet your customers where they are, and customers today are ever increasingly mobile. A successful mobile marketing strategy using QR codes or MS Tags will place your business there in real time.
Precisely.
Jerry Duling is a Marketing and Business Consultant, Professional Speaker, and Social Media advisor. Jerry shows businesses how to use Social Media to build their brand, generate leads and close sales. Jerry also provides individual resources for the Internet Entrepreneur. Connect with Jerry on Google+.
[pinterest]